Welcome to Fixpoint: the blog of Jacob Welsh and a journey of convergence toward roots underway since 2019.
The sidebar navigation links provide a number of cross-sectional views of the items herein, or you can subscribe to the global articles and comments RSS feeds. There are also some historical bits still up on my older hand-coded site.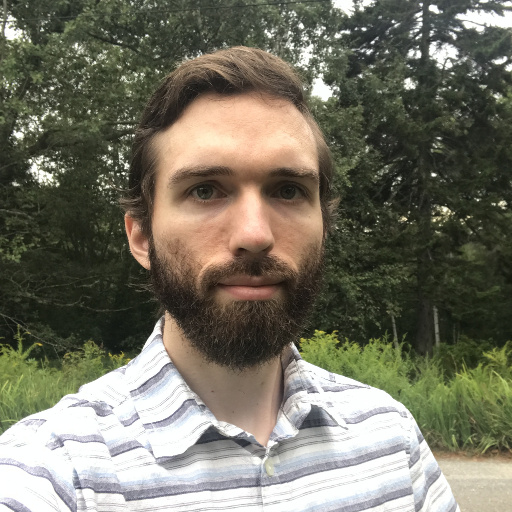 I'm an applied cryptographer and key management consultant, with skills in system administration (principally Linux/UNIX), networks, software development, and teaching. I earned the degree of Bachelor of Science in Computer Science from the University of Virginia in 2012. I worked variously as an intern, part-time and full-time engineer for Sine Nomine Associates from 2007-2013, and as an independent contractor 2013-2016. I co-founded JWRD Computing and have served as its Chief Technical Officer since 2016. I've been playing with Bitcoin since 2012, and became active in The Most Serene Republic in 2019 through submission to the Young Hands Club ("jfw" in its chat logs). I held good standing in the Web of Trust as of the Republic's 2020 closure. These days I'm also involved in testing for Eulora2.
The best way to reach me about subjects on this blog is, of course, the comment box on the relevant article. Presently, all comments passing my CUPTCHA(i) and not otherwise from known-spammy corners of the 'net are published.
For chat, stop by #jwrd on our Internet Relay Chat network; I'll usually respond within a day. This is a public forum with logs updated in real-time under the logs category.
Failing that, you can try email: pwhtp4@welshcomputing.com, replacing the garbage spamtrap before the @ sign with "fixpoint". Platforms that I once graced with my presence but which will NOT work to reach me and certainly do not speak for me include Facebook, LinkedIn, GitHub and GMail.
My GPG key is here and reproduced in full below.
I've also certified some subordinate keys for specific uses:

-----BEGIN PGP PUBLIC KEY BLOCK-----

mQINBF14XtEBEACduQjpUZvLYHfzRB0DTm+56Rp3nMyozgMk/PCR8rfhBChgRuka
zoEyLVaZ2s/LocVu7RoIoTUv6Xc6QrkTM0BndTeJhaMJ1waRVCxvSS1DIwQuM1pU
texrQCW1fAURx35s96cZDIrZxMd6ZfWHeO7D/VVwmkcWMBQTO3oYwTTpwnjWPEgk
9WJ8Qf8iVfP3YcFnFOr5knWLXHDcoCLLOWNR88oemhubIV8qusMm15p83AoQzfLG
dCkvH0Y31m+z8bnHcuKcBE5SF66kFMwQQdCdm7hwvXMQ/XzjyI7AgaJpjIES7qme
XwY96XqqYdkAEU5BkgzxBN/sBjpQsHClEvnQdSSXGL1EJVR2+ReMCIQxVeUs8BFW
6A4+Qo+QvAyZ13TXe4VE5QpmIf8TWTdVt3quNhcN5DW93Ci9xVWioWd/Y46oipOC
KRPXWWL/HTvTlJlFzpXowLbF1qNDvYYLkj+2ShNxUseZZ8FwYKr47pAKb1LYf91G
2hyCILe/RUMUt81mA7q5s36XMG78FOLUEJo7o0qYBf2ZLexub3VRtMmmV3DDCRd9
LjWRK/9iBLyrSDNlK6E0/vcHfwu6sjPE/VwNAOCD8LeuEx/HLTbPXkFANoDQAQNM
Ku4ihDBU2WLfoXNu1wTQKbWRtPFs451Uh4Wl6CWfXDfc25bgHECKMSWLIwARAQAB
tBFKYWNvYiBXZWxzaCAoamZ3KYkCLgQTAQIAGAIbAwIeAQIXgAUCXXjb4gULCQgH
AwIVCgAKCRCuDfMGAlWUs9guD/9eym5wEobOoJ8CV31VWGRylbu5M/ybj8JZsMyG
O8OboXk3ULWAzWhhlzx/DSsu8t/fiRglRO2gY9LPWkbnyLLK0TEb2oTKAALEBLKi
mkHCE9/0k7UAs4w3sp8ieWkv9N0a0pz4BtGzxO/n5QCpKZKP5eFBiha2VKAxDVt5
GgtekyCWFH1gcAwfcnTAAxfji+GCs5lG5fhJpxGmdU3gxVKDsqWkajcNaza/O9hN
l/DEypelJz5U+ochVmwEbXOu1kMROQq9eGKlbMoXq3av3vN2xIQDZK4MzDDL2M3t
9lBBH8OW7Sd3c6HBPKz+LlufzXDb0KSS9vK37j+xnQpMy6+LmGNkBRB4Zb4fwOyP
MwPOH/QbdIInil2yxfn7bd8qhHKVrRUNM3/7kbHlq6yg2HbjkzxC2UDp/SAsxmJn
Uj7ey/vRYEYoGfFK64AhNP7PGxfAKE8Cvw5KVb/kzubLlXoQPXinyDnn7hJXo7mA
ADn1nsKhWgHtJrIKhUqtAGGXaeD1z2+Q1R5G0bjHGugn+9nc7tt1JNNlxmXY+xce
nbrenC7ZHytm3i0WGPJhgqmUnw4B0unDgzfUIqxS2Y3AYV0Iwc+fw4Pc4x17Y5c6
/NV8FhaS+9NfD3M22Ies+jcgkgguFx/OR98Y2kGtTAh/n4rqnaL0i5arHkqFygGg
qfvZwIkCHAQQAQIABgUCXXmuVAAKCRCokCp8rP0TsFlpEACKjjQ4wS547dDQLg2S
sQz/zqlzTxfpK7XUH35n3Xp9wuUtWgd50Kn38vpfhvS6RdIOYvvRjMZPoWsLC3z6
MI4TUBsLLIArG54+BWtEx+GDIXxYOHpqdZUBCCmmY6SPf6m2vL5EAHUX3Cd318Dc
2dGo9ShpPbJiILeW3O22iu57mKLSInUKilFkzEjgH2P9VycRZXY0R0WKETnAemOo
hWnf2S2QQvVg8v7D4+nUG1Kzb9bJ7nht8hDvKRaN9USlPGe2S2TOJrMxwC5ESOPx
+eayq92Na8dtR4CczMiwFmp8gZ+OTBbT4Y5vMCtrxGyK/LVe5Jsn+whuif/dK3XU
R8xCykjLfT22Hy0o6LjitCufStLD0BwsZByomTG/dHfkt06PlWN/nyE80fYagqpU
SQYLRJX7gMhuMcJFfc8+r7Z+m6vH1kyHBrChxOXbGSw72Elxv7RHqWElwrmtYHZT
qbUAkp4TvEspJHbNymrSDnzdj0CgZbCTpiBO2QHLo45r7HfwNLebTbDm4XOZNuEc
vGnfEP5oqyOZOiFhpo3I95Lp5T0dBLBa0P9BM5uomcaQ8Sde0CoQfa4JBIrwoq0G
BpbX0enY/pdstyNofr29i8jWlIx+Rs113wfyftigE19NUpUx6gqbxJGWaMXQcX5M
PCgkhPo+xtwt7rWtJKGVdTBkULkCDQRdeF7RARAAuuZ8QekWjGW92/4+uK5RjmB0
Q3QDqCynaXLl9uO0yMiiEqlK/ywwo79f5rDg9TvkuBto6qHjax9NIumEm/o35d96
Wnw1TgN1Jk3cvfLFRBBzfxEAEndhhqD9u77EUNpVwXfTvrArynj0S7cTxV44RZ3o
B9l3hsG6K++ap3p47FVSEHR52rpZB9V0eDI6zG11x6/BYHBGDGcPsY62mLDiGvk1
bHExDMs6RmONP7gejUzJu3Pnc+18MmceUMGCXckQrySXDMjfnCkfl8eT3hW1dt0X
J0i5Gh5UZemaM85dtnh79dOpJpGRSy48Pw+xVMg/ynDVXOoLynj8FmCGtjEp2qi5
QVZSlmCfCxLpbt5qMQgVUUbhW2EOSvYCevWwtP3B2UBvUFvtFuDg1SBJRHL9oHIf
FPG0kYPQlllJyUff1YvjUJzGYuaYmzryQCPaJfxNuxmLxBnLKEhf1eLdvCuNXAJY
UinC32Wl+CkHYfMQaia1QYK9or/JizIz2g9gpMJpbnl+23CfgF0ICJfGfJ5d7Pi5
aPLbs6z/wRgKFgeUtkd5k1jnYkV5zFvlOMP62JLpWOWqdzXJ+hIEDWwt3fRIG233
iOOvGI2ZvbmCPiy4dWKW1tSsxsI+3M5QU4zpkHgHWl+sR8Zw5CdGiqMXxiI/SRlz
oAy9RiNedrgX+n/e2IEAEQEAAYkCHwQYAQIACQUCXXhe0QIbDAAKCRCuDfMGAlWU
s/7yD/9dU6ZvowNuhKP0J6ziG7b2myfBbm279MK7Ivv+6x58+CrP/IYusNwZxTv8
F0YHmQUYV8VuwiOsv3JZ+v6R8f1iW5wo2w22B2WTlY1zJweWygWU32cfJICjPHVD
09nMkAjmIyrLMdxA1PUvwqXn0bvhpPx1tbxIapsszYPFTv+ui9TU5yaDKIDGRvAM
4ThZec//QZktGRppLi/00lgaDLB/knbsHNn1CbKf0eui105vBlieTt7OLiTTfJoy
j9RyTWJhrPXyPApfqvtyBqyva2zMm1NZUnK/sU9MzncmbRgrNuSg9ivPisQG0wrg
r1Mk1gpmTy3Fc6aba4tq64ObelrL6CX2r+ZhI/I6Md8K2n51G8w77wVFaMD2RrqZ
hd98jEC9d37d5cwaXTzF5fFFjsx1Iq4wc50TCCgsa/KVosv4QXVu6CCtHb9JI+aE
mTBTF8s40kT2/1DzjK9QT0N48gRPSY8AVAKn17WdXoadOoqtT22VOlY49ElXvmrv
v0HYPR6YYVNfh4XgtW5zxWHvz/LiSNtVb7S/Zgls0Ws2hEMeX/w0sipv2XKXqdAy
igF/HFLm0fDWMEqEILY4tFqFuH/jDkjtzoYp8MnwsFxnXW5k1URPMaZs8m7LpzTs
neZ+c1rQQEHMOqjgxB3O9QMd/Rt5H3gtxri5J/zQJlzYCvkKng==
=J2vV
-----END PGP PUBLIC KEY BLOCK-----

that's Completely Unautomated Private Turing Test, as there's really no tolerable alternative. [^]